TOP NEWS STORIES:

TOKYO, JAPAN, April 24, 2001 - The first lawsuit launched by a group of plaintiffs to recover compensation from the government owned tobacco giant, JAPAN TOBACCO CO.



WOMAN AWARDED AU$450.000 for cancer caused by envronmental tobacco smoke while working in smoky bar:





BUSH TOBACCO TIES - Special to CorpWatch April 2001:



WOMEN TARGETED: In JAPAN, Virginia Slims girls say "I am honest with my own feelings."
...But big Tobacco isn't honest with them!



WHERE'S JAPAN? Indonesia, Thailand, India, Bangladesh, Myanmar, Nepal, Bhutan and Sri Lanka want to ban cigarette advertising. Why not Japan!??






JAPAN MEDICAL-DENTAL ASSOCIATION FOR TOBACCO CONTROL -click here!









Click here to to see Japan's contribution, the Kobe Declaration!




More SMOKE FREE restaurants and coffee shops!



WEST PARK CAFE-AKASAKA, the Best Smoke Free Dining in TOKYO! ...Ph: 03-3589-9090




Also on same floor of Akasaka Tokyu Hotel: ROYAL HOST, completely smoke-free!


AKASAKA RAMEN! Where the STARS go!! Humbly drawfed in front of the new 45-story Sanno Tower, OPEN ALL NIGHT! (Sparerib ramen!)

________________________________________________________________
RESTAURANTS
BARS & CLUBS
NS LIFESTYLE
JULY Event: SUMMER POOL PARTY - FULL!
NO MORE RESERVATIONS ACCEPTED.
Sorry! Please book early next time.


********** SUMMER POOL PARTY ***********

Date: Saturday, July 28th
Time: 3pm~
Place: Yoyogi private home (same as before)
Party: Swimming on rooftop pool, poolside snacks.
.....Indoor buffet including steaks, seafood, pasta,
.....appetizers, vegetables, salads, fruit and
.....a variety of cakes, and other desserts.
.....Drinks include champagne, mixed drinks, wine,
.....beer, natural juices and variety water.
Cost:5,000yen w/alcohol, 4,000yen without alcohol
.....(advance payment by July 23rd
.....bank details w/resv)
.....Note: Please bring your own swimsuit and towel
.....if you would like to swim.


Please make your reservations early as we must
limit the number of guests and hope not to have to
refuse anyone as we did last year. You may reserve
by phone or e-mail, nosmoketokyo@yahoo.com
Please e-mail us for reservations.




**********************************************
WE OWE A LOT TO THIS MAN!
JEFFREY WIGAND, the Real INSIDER
appeared Sunday, May 27th at Aoyama Gakuin

VISIT JEFFREYWIGAND.COM!



This hero ex-Brown & Williamson executive (played by Russell Crowe in the movie "The Insider") risked threats to his children to bravely expose the truth by submitting documents which proved that the "Seven Dwarfs" (the seven big tobacco companies) had LIED UNDER OATH to the US Congress about knowing tobacco IS addictive!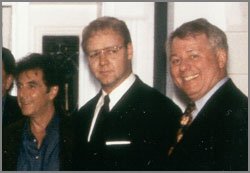 Jeffrey Wigand with "The Insider" cast members Al Pacino (left) and Russell Crowe (center).
(photo credit: Frank Connor)


Call anytime to hear current events and directions: 3589-8600 ext.927 (24hrs)
***There will be teaching materials available at the presentation and FREE videos for educators and NGOs working with children as part of SMOKE-FREE KIDS effort to keep our children tobacco-free!